---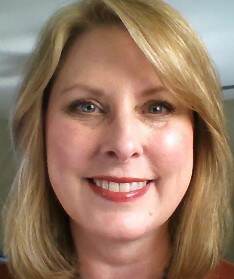 Blair Massey
Certified Image Consultant and Style Coach
What would happen if you had a personal style that was fashionable yet authentically you? What if the way you looked on the outside conveyed the best of who you are on the inside? How would that feel?  Would it be a game changer? 
 
I'm Blair Massey, Certified Image Consultant and Style Coach, and I would love to help you make that happen.
Style is not about wearing something just because it's in fashion.  It is also not about imitating the look of a celebrity or copying an outfit in a fashion magazine or on a store mannequin.
Style is about expressing who you are through your clothes, hair and makeup via your unique coloring, face shape, silhouette and personality.  Together, these elements are your recipe for always looking your best.
It is my goal to help you put together a look that is flattering as well as uniquely you.  This goes for your casual wear as well as your professional attire.  And, I promise I will never try to make you into someone you are not.
I offer personalized services that reveal your best look via color and silhouette analysis, personal style expression, wardrobe audits/edits, personal shopping, accessorizing, makeup application, hair color consultations and more.
It would be my honor to help you create a personal style that is uniquely you. Please contact me for a free, 30 minute Image Assessment.  Together we will identify which services will help you achieve your goals.
Services
A good place to start is with a Color Analysis and a Silhouette and Style Analysis.
If you live outside my area I can work with you via a Virtual Consultation.
Other services I provide include:
Wardrobe Audits: This is where we go shopping in your closet to create new outfits from what you already own. We clear out the items that don't work, keep the ones that do work and create a flattering wardrobe that makes getting dressed effortless and fun.
Personal Shopping: This is where we go shopping for clothing and accessories you need to complete an outfit or for entirely new outfit.  I'll teach you how to identify exactly which styles look great on you AND I'll cut your shopping time down so much you'll be amazed.
Women's Professional Image: If you want to project a polished professional image, this is the service for you.  Learn how to present the right visual message to attain your goals.
Bridal Stylist Consultations  Let me help you create a stunning entrance as you walk down the aisle on your special day. Help color selection and style choices for every aspect of your wedding: your wedding gown, décor, bridesmaids, groom, groomsmen, mom, dad and in-laws.  It all start with you and move out from there.
If you need assistance with skincare and makeup, as a licensed Esthetician and Makeup Artist.  I can guide you to the right color selection, application and products.
Please contact me for a free Image Assessment.  I will help you identify which services will help you achieve your goals and fit your budget.
Here's to always looking your best!
Blair Massey
Certified Color, Style and Image Consultant
P.S. Get to know more about me by reading the story of My Color Journey.
Education and Certification
Color Me Beautiful Certified Color Consultant
Color Me Beautiful Certified Color, Style and Image Consultant
Esthetician's License
Bachelor of Science in Business with a concentration in Marketing
Contact