---
Bridal Stylist
---
Look Beautiful on Your Special Day With a
Bridal Consultation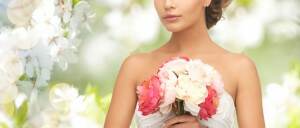 It's your wedding day! What an exciting time in your life. You are the focal point of your special day and there are many subtle details to consider.
As a Certified Image Consultant, I can help you create a stunning look with personalized recommendations on color, hairstyle, makeup, style of gown, jewelry, shoes and more.
Whether your wedding is traditional, informal or at an exotic destination, having a Bridal Consultation is the perfect way to ensure that you look spectacular from head to toe on your wedding day.
A Bridal Consultation offers guidance on:
Color choices for all aspects of your wedding, including your wedding colors, gown, makeup, hair color and jewelry.
Choosing the right style and neckline for your gown to flatter your face shape and figure
Choosing the right accessories to flatter your face shape
Choosing a hairstyle that flatters your face shape
Makeup designed to bring out the beauty in your unique coloring
Wardrobe planning for your honeymoon
Not only will this consultation help you look gorgeous on your wedding day, it will also help you with all of your image choices for the rest of your life.
Call 530-683-5035 for a free needs assessment and details on available packages.
Let me help you create a stunning entrance for your walk down the aisle on your special day.
Blair Massey
Certified Color and Image Consultant