---
Color Alliance Color Analysis

Do You Have a Closet Full of Clothes But Nothing to Wear? A Color Alliance Color Analysis is the Answer!

A Color Alliance Color Analysis will help you:
Create a flattering, coordinated wardrobe
Select an outfit to wear in 5 minutes or less
Expand your color options beyond neutrals
Mix and match colors with ease
Know which colors and contrast level looks best on you
Discover your 6 "Signature" colors
Save money by ending costly buying mistakes
Save time when shopping
No more "mistakes" hanging in your closet
These are just some of the many benefits of having a color analysis.
How is the Color Alliance Color Analysis Different?
In the past, color analysis put people into four general "seasons" – Spring, Summer, Autumn or Winter. These broad categories were helpful but many people didn't fit neatly into these "boxes".  Even systems with 12,16 or 18 categories don't provide enough variety. Human coloring is much more diverse.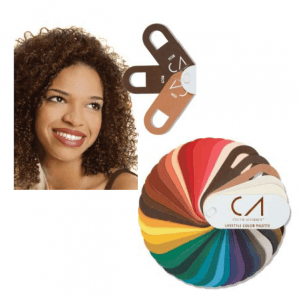 In the Color Alliance® system there are 372 seasonal classifications with millions of possible color combination.  There is no other color system that can provide a higher level of precision or individuality.  Only your fingerprint is more unique!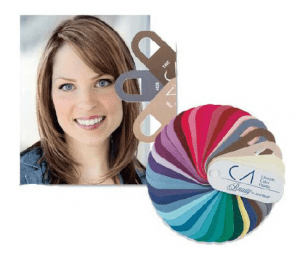 I will provide you with a palette that is unique to you because it is based on your individual coloring. Your palette will harmonize with your coloring, highlighting your natural beauty. 
How is the Color Alliance Color Analysis Done?
First, I select Color Alliance Coordinates™ that capture the best representation of your  skin, hair, eye color and contrast level (see the color trio next to the model's face above).  Next, I determine your skin's hue level using hue level color drapes.  This information is entered into a state-of-the-art computer program to obtain your three-part seasonal name.  This name reflects the hue, value and chroma of your individual coloring. I use all of this information to order your custom-made palette.
What Will My Palette Look Like?
Because your palette is created specifically for you, it is assembled by hand at the Color Alliance® facility.  Your palette contains 40 colors, each chosen to harmonize with your individual coloring.  These colors represent thousands of colors that are best for you and I will instruct you on how to know what they are.  Your palette comes in a handy zippered case that you can keep in your purse, ready for any great sales you might come across.
Since the Color Alliance® system provides a custom palette that is unique to each person, it is impossible to show every palette.  However, to show you an example, below is a True Topaz Spring palette that was produced using the Color Alliance® system.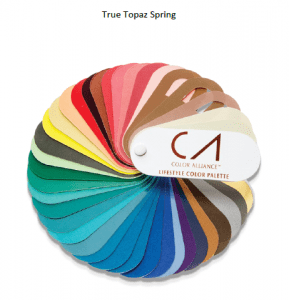 What Can I Do With My Custom Color Palette?
You Can:
Build a coordinated wardrobe that harmonizes with your coloring, making YOU look fabulous.
Save money because you know which colors look best on you.  No more mistakes hanging in your closet.
Get dressed quickly because your wardrobe is coordinated and outfits come together effortlessly.
Choose nail polish and makeup in your best colors
Select the right metals for jewelry, clothes, shoes and eyewear
Select the right colors for gemstones and jewelry
Know which colors make your eyes sparkle, your skin glow and your hair shine.
Drastically cut your shopping time because you know which colors look best on you.
Take advantage of sales knowing that you are selecting colors that coordinate with what you already own.
What's included in My Color Analysis?
You will receive:
Your personal Color Alliance Color Analysis
Professional makeup application featuring colors chosen to accentuate your coloring and to coordinate with your color palette – perfect for an everyday look.
Handouts diagramming exactly how to achieve your new makeup look at home.
Hair color recommendations, if applicable, based on your natural hair color.
Personalized Color Alliance Color Palette keyed to your specific skin, hair and eye color.
You will also receive instruction on basic wardrobe building which covers:
Your best basics for building a core wardrobe.
Your best colors for accessories: shoes, belts, handbags.
Your best metals.
Your 6 signature colors for that extra "wow factor".
Your contrast level and how to combine colors to harmonizes with that level.
How to combine different colors from your palette to create a stylish look.
How to shop with your palette.
The color message behind your colors and how to use them in your outfits.
Total session time: 2.5 to 3 hours broken up into two sessions

Call 530-683-5035 for a free assessment consultation or to make an appointment.
If you live outside the Bellevue WA area, I offer my services via the internet.  You can have your Color Alliance Color Makeover done from the comfort of your home.
Having trouble with your style?  Check out my Signia Silhouette and Style Analysis.  It's the most comprehensive head-to-toe analysis available that lets you know exactly which styles look good on your body shape. A 63 page Style Portfolio and instruction are included. Save time and money when shopping with this foundational information.
I offer a price break if you choose to do the Color Alliance Color Analysis and Signia Silhouette and Style Analysis at the same time. Ask me about it when you schedule your appointment.