---
My Color Journey
My love affair with color began when I read Carol Jackson's famous book, Color Me Beautiful.  This was the book that ignited the seasonal color revolution in America.  Suddenly everyone was asking, "What is your season?"
Like many women I wanted to know what clothing and makeup colors looked best on me.  Based on the book's information I thought I was a Spring.  Years later I found out I was actually a True Mellow Autumn.  I'll share more on that in a bit.
Early in my career I worked as an esthetician in the San Francisco Bay Area.  When I married, we moved to Sacramento and I pursued my Bachelor's of Science degree in Business. While working my corporate sales job I obtained my Color Me Beautiful Color Analysis certification.  I enjoyed doing color analysis as a side business for many years.
When my son entered high school I called Color Me Beautiful to see what was new in the world of color.  I was delighted to learn they had a new individualized color system as well as advanced style and image training.  I jumped at the chance to learn these new skills.  And yes, I finally did find my very best colors.
As I mentioned previously, I thought I was a Spring after reading the original Color Me Beautiful book.  I looked good in some of the colors however I didn't wear all of the colors because many were too light and bright for me.  That really limited my color options.  When I had my colors done professionally I was analyzed as Soft Autumn.  While this classification was better, it wasn't completely hitting the mark.  My swatch packet had several colors that didn't look that good on me.
Then I had my colors done with the Color Alliance® system. Wow! What a difference!  My coloring came alive, especially my eye color, which up until that point I had considered to be a dull grey/blue-green.  I learned that my most flattering colors are from the lighter end of the Autumn season with the addition of some colors from the Spring season.  That is why my True Mellow Autumn palette includes a dash of Spring colors (see my palette below). Mystery solved!  I also learned that my eye color is actually teal. My new color palette and coordinated makeup makes them really stand out.  No more dull looking eye color.  I am beyond ecstatic!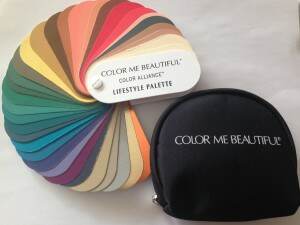 In the past, color analysis put people into general "seasons" – Spring, Summer, Autumn or Winter. These broad categories were helpful but many people didn't fit neatly into these "boxes".  I am a prime example!  Even systems with 12,16 or 18 categories don't provide enough individuality. Human coloring is much more diverse.
In the Color Alliance® system there are 372 classifications with millions of possible color combination within each classification.  There is no other color system that can provide a higher level of precision or individuality.  Only your fingerprint is more unique!
If this excites you, I would love to work with you.  It would be my pleasure to help you find your very best clothing and makeup colors with a Color Analysis, as well as your personal style with a Silhouette and Style Analysis.  If you live outside my area I can work with you via a Virtual Consultation.
Other services I provide include:
Wardrobe Audits/Edits. This is where we go shopping in your closet to create new outfits from what you already own.
Personal Shopping Together, we go shopping for new outfits or for something for a special occasion.
Women's Professional Image If you want to project a polished professional image, this is the service for you.  Learn how to dress for your success.
Bridal Style Consultations  Let me help you create a stunning entrance for your walk down the aisle on your special day. I help with color and style choices for every aspect of your wedding: bridesmaids, groom, groomsmen, mom, dad and in-laws.
If you need assistance with skincare and makeup, as a licensed Esthetician I can guide you to the right color selection, application and products.
Please contact me for a free, 20 minute Image Assessment.  Together we will identify which services will help you achieve your goals.
Here's to always looking your best!
Blair Massey
Certified Color and Image Consultant
Education and Training
Esthetician's License
Color Me Beautiful Certified Color Consultant
Color Alliance and Signia Silhouette Certified Consultant
Bachelor of Science in Business with a concentration in Marketing, Sacramento State University
Contact Form